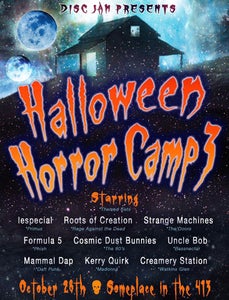 $

60.00
WHO: Very special Halloween Themed sets by- lespecial - Roots of Creation - Strange Machines - Cosmic Dust Bunnies - Formula 5 - Mammal Dap - Creamery Station - Uncle Bob - Kerry Quirk - more TBA!
WHAT: Halloween Horror Camp part 3
WHEN: Saturday October 28th 2017 10am - Sunday October 29th 2017 12:00pm
WHERE: An undisclosed summer camp in the 413 area code of MA
HOW: All ticket holders will be sent a private email 48 hours prior to gates opening with information regarding the whereabouts of the event. This has been a private event not open to the public the past 2 years and NO TICKETS WILL BE SOLD AT THE GATE.
Every ticket includes entry to the event with a variety of sleeping options that range from traditional festival car side camping ($60), glamping for 2 in one of our 2 person provided canvas camp tents and cots ($100), private 4 person Adirondack Cabins with camp style beds ($400), a spot in the Community Cabin with camp style Bed ($125), or your own private 10 or 20 person cabins with electricity ($1,000-2,000)
A complimentary beer garden sponsored by Lagunitas Brewing Company for all 21+ attendees, and a farm to table community breakfast on Sunday morning to recharge your mind, body, and soul after a day/night of 14 hours of live music, costume contests, 🎃 carving, and howling at the 🌙 are also included in EVERY ticket option.
TICKETS: tickets go on sale Friday, August 18th at 12 PM
Traditional Car Side Camping- $60
You park in a beautiful freshly cut grassy area within feet of the music! park your car, where ever you want, save space for your friends to camp with you in encouraged and set up your campsite to any size you feel fit! TONS of space to make a camp for your whole crew, and yes we can park/camp you all together!
Community Cabin with Camp Style Bed- $125
A perfect way to rage Horror Camp in style when you can quite fill a 10 or 20 person cabin. This cabin will be similarly to a summer camp style cabin where you are placed with with a bunch of DiscJamFam. Up to 30 beds in one space so you can go as big as you like!
2 Person Canvas Tent with Cots- SOLD OUT
This is by far our coolest set up we have for a couple or large group of friends looking to experience the event together! No need to worry about arriving at the same time to stake claim to an area or the burden of the setting up and breaking down of a camp site! Simply show up, get shown to your tent and enjoy the night.
Each 2 person tent are located in 1 of 3 different tent villages. They are all in a secluded, and maintained wooded area complete with community fire pit within ear shot of the music hall.
We are limited to 40 tents and once they fill they're gone. Each village has 12-16 two person tents, so plan accordingly, and yes we can camp your entire crew in the same village :)
4 Person Adirondack Style Cabin with Cots- SOLD OUT
Same set up in the same location as the 2 person canvas tents, these are the camp counselor's sleeping quarters and are the best of both worlds, think mini personal cabin in the woods!
10 Person Private Cabin with Camp Style Beds- SOLD OUT
If you're looking to go big with a crew at Horror Camp, this is the it! description is pretty self explanatory, this is YOUR PRIVATE CABIN! do whatever it is you like ;)
20 Person Private Cabin with Camp Style Beds- $2,000
If you're looking to go big with a crew at Horror Camp, this is the it! description is pretty self explanatory, this is YOUR PRIVATE CABIN! do whatever it is you like ;)
(please note this event had sold out in advance the last two years and we fully intend to see it at maximum capacity of 250 guests again so do not delay, gather your crew, and buy your tickets in advance)